The race for the AFL top 8 has been blown wide open over the past two rounds.
Adelaide and St Kilda looked set for a finals campaign until suffering two disappointing losses, whereas Carlton and GWS look to be storming home like Chautauqua in the 2017 TJ Smith Stakes.
We analyse the chances of every side below:
How The Run Home Works:
Each game will be assessed as if the two opposide sides were to play four times and then calculating wins into a decimal system.
For example:
Port Adelaide vs Collingwood = This is likely a 50/50 match, therefore both sides would get .5 of a win
Melbourne vs Richmond = Melbourne likely to win 3/4 times, therefore Melbourne = 0.75 – Richmond 0.25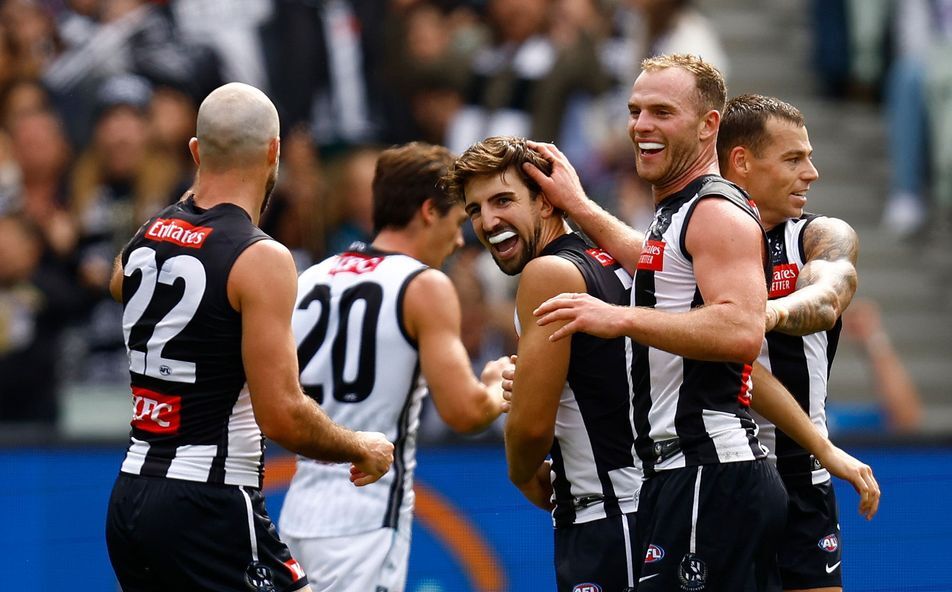 Getty Images
AFL Predicted Final Ladder
Collingwood – 19.25 Wins
Port Adelaide – 17.75 Wins
Brisbane – 16.75 Wins
Melbourne – 16 Wins
Geelong – 13.75 Wins
Western Bulldogs – 12.75 Wins
Essendon – 12.5 Wins
Carlton – 12.25 Wins
GWS – 12.25 Wins
Richmond – 12 Wins
St Kilda – 11.5 Wins
Adelaide – 11 Wins
Gold Coast – 10 Wins
Sydney – 9.75 Wins
Fremantle – 9.25 Wins
Hawthorn – 5.5 Wins
North Melbourne – 2.75 Wins
West Coast – 1.5 Wins
Round by Round Predictions:
Rd 19
Essendon (0.5) vs Western Bulldogs (0.5)
Richmond (1.0) vs Hawthorn (0)
Carlton (1.0) vs West Coast (0)
Brisbane (0.75) vs Geelong (0.25)
Fremantle (0.5) vs Sydney (0.5)
Port Adelaide (0.5) vs Collingwood (0.5)
GWS (0.75) vs Gold Coast (0.25)
Melbourne (0.75) vs Adelaide (0.25)
St Kilda (1.0) vs North Melbourne (0)
Rd 20
Collingwood (0.75) vs Carlton (0.25)
Geelong (1) vs Fremantle (0)
Western Bulldogs (0.5) vs GWS (0.5)
Gold Coast (0.25) vs Brisbane (0.75)
Essendon (0.5) vs Sydney (0.5)
Adelaide (0.5) vs Port Adelaide (0.5)
Hawthorn (0.25) vs St Kilda (0.75)
Richmond (0.25) vs Melbourne (0.75)
West Coast (0.5) vs North Melbourne (0.5)
Rd 21
Western Bulldogs (0.5) vs Richmond (0.5)
Essendon (1) vs West Coast (0)
Adelaide (0.75) vs Gold Coast (0.25)
Hawthorn (0) vs Collingwood (1)
Geelong (0.75) vs Port Adelaide (0.25)
GWS (0.75) vs Sydney (0.25)
North Melbourne (0) vs Melbourne (1)
St Kilda (0.25) vs Carlton (0.75)
Fremantle (0) vs Brisbane (1)
Rd 22
Collingwood (0.5) vs Geelong (0.5)
North Melbourne (0) vs Essendon (1)
Sydney (0.75) vs Gold Coast (0.25)
Brisbane (1) vs Adelaide (0)
Carlton (0.25) vs Melbourne (0.75)
West Coast (0) vs Fremantle (1)
Hawthorn (0) vs Western Bulldogs (1)
St Kilda (0.5) vs Richmond (0.5)
Port Adelaide (0.75) vs GWS (0.25)
Rd 23
Collingwood (0.75) vs Brisbane (0.25)
Richmond (1) vs North Melbourne (0)
Gold Coast (0.25) vs Carlton (0.75)
GWS (0.75) vs Essendon (0.25)
St Kilda (0) vs Geelong (1)
Adelaide (0.5) vs Sydney (0.5)
Western Bulldogs (1) vs West Coast (0)
Melbourne (1) vs Hawthorn (0)
Fremantle (0) vs Port Adelaide (1)
Rd 24
Brisbane (1) vs St Kilda (0)
Carlton (0.75) vs GWS (0.25)
Essendon (0.25) vs Collingwood (0.75)
Geelong (0.75) vs Western Bulldogs (0.25)
Hawthorn (0.25) vs Fremantle (0.75)
North Melbourne (0.25) vs Gold Coast (0.75)
Sydney (0.25) vs Melbourne (0.75)
Port Adelaide (0.75) vs Richmond (0.25)
West Coast (0) vs Adelaide (1)
Best Bet:

AFL Premiership Multi Builder:
Geelong – Top 8 – $1.20
Western Bulldogs – Top 8 – $1.45
Essendon – Top 8 – $1.65
Melbourne – Top 4 – $1.20
Odds – $3.44